Worried about the impending cost of Christmas? Stressed about all that hellish shopping? Anxious about those January credit card statements? Concerned that those expensive gifts aren't even wanted or needed by the recipients? Irritated by the way the shops are full of cards, decorations, wrapping paper and artificial snow in October? Getting a sick feeling in your stomach at the idea already?
Worry no more! With Buy Nothing Christmas, you can reclaim the festive season.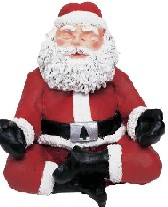 Best of all, you can have a bankruptcy-free New Year. Because you're worth it.
4 comments