Formal confirmation was received today that Margaret Hassan has been murdered in Iraq.
Irish-born Mrs Hassan was married to an Iraqi man, who has made an emotional plea for her body to be returned. She had lived in Iraq for 30 years, held an Iraqi passport and had converted to Islam. As director of aid agency Care International's Iraq operations, she was well loved and respected in her area for her hard work on behalf of Iraqis.
Mrs Hassan was kidnapped by an unknown group. After a harrowing month in captivity, she was shot.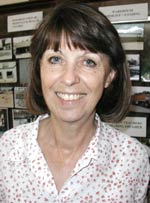 News of her murder has met with worldwide disgust. The Muslim Council of Britain issued a statement in which it said "Mrs Hassan had served the Iraqi people tirelessly for most of her adult life and it is appalling her goodness has been repaid with murder."
Iraqis have also been swift to condemn the killing, ensuring their horror and disbelief at the crime will be heard by those who cannot easily distinguish between the labels 'Iraqi' and 'terrorist'.
Journalist Robert Fisk has today questioned the information surrounding Mrs Hassan's murder in The Independent (you'll need BugMeNot for a login).
Our thoughts go out to Margaret Hassan's husband, family and friends, and to all victims of violence in Iraq.
3 comments
MajorDad Says:
November 18th, 2004 at 2:21 am

May Mrs. Hassan rest in peace…and may her death be avenged.

Yes, vengeance is not a bad thing. No, it doesn't continue the circle of violence. If anyone has any doubts that this murder was in any way shape or form justifiable…I'll have to give you my address. Come on over for me to open up a can of whoop ass!

I'm sure that there will be those that try to compare this to any one of the collateral deaths caused by coalition force actions. The difference is that this is indeed premeditated, calculated, and purely evil. The soldier that fires a round at an insurgent fighting within a civilian sector and inadvertantly strikes a non-combatant is simply an accident. While horrible…it's just not the same in scope or intent.

From everything I know about Mrs. Hassan, she was a saint in the middle of a country that could use more of the same.

Also..I probably need to make a public statement about the Marine shooting recently reported. IF the Marine did indeed murder the insurgent…then he should face military justice. However, if it turns out that the Marine was trying to protect himself or his fellow Marines, then he gets to walk. What I was trying to imply was that let's not jump to conclusions and try the man without the benefit of the doubt we as members of a free society enjoy when it comes to legal difficulties.

From the high ground…

MajorDad1984

SwissToni Says:
November 18th, 2004 at 12:28 pm

Not wanting to have a pop at the last commenter here, but I have to say I allowed myself a chuckle at the suggestion that we should put that marine on trial for the murder of one of his enemies….

marine = professional killer
insurgent = person he was sent to kill

It seems a little odd that it would have been okay if he killed him outright first time around, but that he took a second bullet is not okay?

Don't get me wrong – I agree entirely with what Fox has been saying about the atrocities being committed by the coalition forces in Iraq (some of which we can watch on tv). I am also against this stupid war.

I am just interested in how we are attempting to apply "rules" and "standards of behaviour" to war. Selective morality my friends. If you send soldiers to fight a war, don't act all surprised if people get killed.

ST.

MajorDad Says:
November 24th, 2004 at 10:41 pm

Swiss Toni…

Believe it or not, there are rules to the way most soldiers of civilized nations are trained to carry out the last measure of diplomacy, armed force. Were we not, man's inhumanity to man would reach completely new levels.

I am completely for the imposition of military justice if:

1. The Marine in question had wanton disregard for the life of a wounded prisoner.

2. Knew the man to be unarmed.

3. Knew that the man was not a threat to himself, his comrades, or even that jackass cameraman that felt he just had to show the world what he could see through the lens of his camera.

However, I'll tell you that things get pretty difficult to figure out when the rounds are still flying, fires smoldering, and the smell of cordite heavy in the air. I've never been involved in direct face to face combat, but I'm reasonably certain that I've been in situations where I had to make decisions "in the rear" that had to be made just as quickly with as great consequence as this young man did. Hopefully he got it right.

It's not as cut and dry as you would have it…

We practice civility even in combat…because we hope and pray that our enemies would show us the same kind of compassion. It's not the soldiers that decide to send themselves into battle…it's the political leaders that do so. Our goal is simply to force a situation where our enemy's command authority decides to call it quits…then we can go home.

Hope this clears some things up for you…

See you on the high ground! And you've got plenty of that if you're in Switzerland!

MajorDad1984