(Enquiring Mind:) So, Fox, are you still going through your White Stripes phase?
(Urban Fox:) No, that's all done and dusted. Now I'm having a Pavement revival. One of my favourite bands ever.
I'm glad you mentioned that, because I was going to ask you about guitar music. You said you don't like any current chart guitar bands. Does that mean you mainly listen to other genres of music?
Yes, on the whole. Hip-hop, electronica, excellent pop, a dash of blues, a pinch of alt folk and a spoonful of classical music are all my cup of tea.
Were you a Britpopper back in the early-mid '90s?
No. Britpop signalled the death of British music, as far as I was concerned. It never really recovered from the sudden hegemony of mediocrity until about 2000.
Ah. Not a big Sleeper fan then.
*Fox gives a withering look*
What about Suede?
I'd strongly dispute that Suede were part of what we call Britpop as their success started a couple of years before that. And because they were good (pre-Head Music). Arguably, they may have set the ball rolling.
Apart from those you've mentioned, are there any other guitar bands and artists you consider personal favourites?
Of course. The Smiths and Morrissey, first and foremost.
Nice choice.
Thanks. There's more though.
Do go on.
Luke Haines, in all his guises. Polly Harvey. Pixies/Breeders (or Kim Deal in all her guises). Huggy Bear. Faith No More. Babes In Toyland. Les Savy Fav. A-ha, past and present. Le Tigre/Bikini Kill/Julie Ruin (or Kathleen Hanna in all her guises). The Slits. The Au Pairs. The Velvet Underground. David Bowie. Helium. Nirvana. Magnetic Fields/The 6ths (or Stephin Merritt in all his guises). Lush. Lilliput. Blondie. My Bloody Valentine. Penetration. Roxy Music. Gillian Welch. Talk Talk. There are probably more, if I thought about it. Did I mention the White Stripes and Pavement?
Once or twice. Finally, what's your view on the current crop of guitar-y NME fodder like Bloc Party, Kaiser Chiefs, Keane, Kasabian, Pete Doherty etc?
They should be boiled in oil until their derivative trousers disintegrate, then launched into outer space in a hermetically-sealed pod.
Righto. Thanks, Fox!
Don't mention it!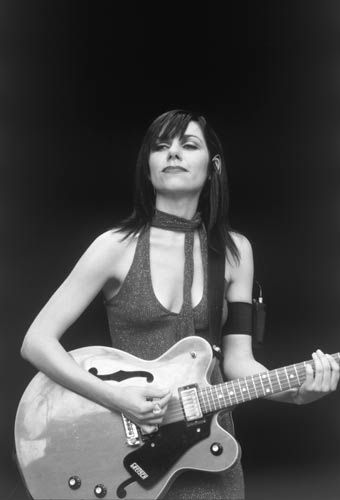 Soundtrack to this post: Hotel Tell – The Sea And Cake
12 comments